What is industrial rope access?
Industrial rope access has been in use for over 3 decades and its roots can be traced back to the offshore industry where the advantages of using recreational climbing techniques to gain access to remote areas was quickly realised and rapidly adopted over more traditional access methods such as scaffolding.
As industrial climbing techniques offshore were becoming standard practice with its low-cost footprint (but high-risk nature), a governing body was set up (IRATA) to standardise and increase safe access methods, and embed a safe system of work within companies utilising rope access with the aim of lowering overall risk. The main focus being competencies defined and independently assessed, equipment control is strictly maintained and correctly managed, and a robust documented process for rope access execution.
The International Rope Access Trade Association (IRATA) membership requires scopes are required to be managed and executed in accordance with the:
IRATA Training and Certification Scheme (TACS)
IRATA International Code of Practice (ICoP)
Member companies have to abide by a strict code of conduct and frequent independent audits to ensure maintained compliance with TACS and ICoP.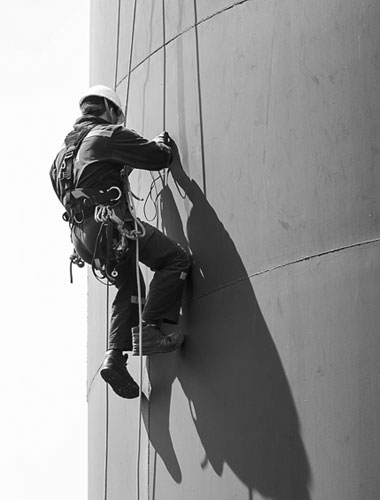 Contact us to find out more >